I have always been interested in the craft of making jewellry but it wasn't until I joined Skauma, a society interested in medieval history and techniques, that I got around and learned some tecniques.
It happened at the same time that Västerbottens amatörgeologer held a course in gold casting and there were two places left. I jumped at the opportunity and started to search for something to do. With only two days to prepare I enlisted the help of Roger to find a suitable medieval ring to do a replica of. He suggested that I would do a copy of a Russian ring from the thirteen century (closeup).
It was a lot harder project than Antti recommended for a beginner, but when I persisted he helped me as much as he could. He lended me an alcohol lamp, a set of wax tools and all the wax I would need for the model.
After a lot of work I had finished a model. Then I decided that it wasn't good enough so I started on another one, this time it was a lot easier and the second model looked really good. I decided that it was good enough for casting my ring.
The next time we met, Antti had already embedded it in christobalite and it was lying in the oven. We took some gold, put it in the melting oven and when it was melted we put the cast above it and turned it around. After half a minute it had solidified and we put it in some water where the embedding mass fell off and the ring appeared. It was all black of copper oxides but after an acid bath it was all yellow.
It took me almost eight hours to file and polish, but at the end when I was doing the polishing it was a wonderful feeling to see the shiny surface appear.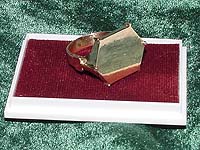 My first ring.